Volcano Zombie Yeti



Type:

Zombie

Toughness:

Extremely High

Health:

175 normal damage shots

Special:

Burns the first plant he runs into, cannnot be burnt by Cherry Bombs or Jalapenos or other plants that burns the zombies, runs away after a short while

Speed:

Fast

Weakness:

Snow Pea, Snowball-pult other ice and snow plants will remove his abillity to burn plants

Almanac Entry:

Volcano Zombie Yeti is scary and wild. Other zombies don't see him a lot because he is always busy EATING BRAINS!!!!!
The Volcano Zombie Yeti appears secretly in Bahrain.

He is incredibly fast and tough.You get 5000$ if you kill him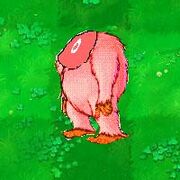 Ad blocker interference detected!
Wikia is a free-to-use site that makes money from advertising. We have a modified experience for viewers using ad blockers

Wikia is not accessible if you've made further modifications. Remove the custom ad blocker rule(s) and the page will load as expected.