Stormy Roof is a Roof nighttime area with fog. This time, instead of fog, it is black clouds. The clouds will cover all of the right part of the slope. Every 20 seconds, a lighting will strike a random square on the roof, killing anything in the square instantly. You won't receive any sun from the sky because it is nighttime. It's always raining so fire plants like Torchwood, Burn Pea, Justice-pult, etc... cannot be picked.
Created by GatlingPeaz.
Info
Appearance: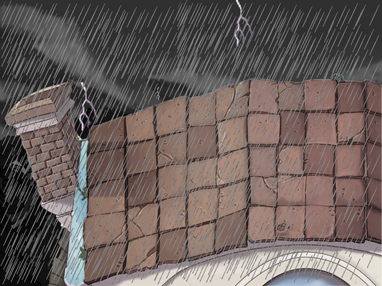 Sun:
You start with 75 Sun. Sun doesn't fall from the sky.
Plants:
Plants will die instantly if they got struck by lightning. Metallic plants will have very high chance of getting hit by lightning.

New Plants:
New Items in Crazy Dave's Shop:
Zombies:
Zombies move and attack normally. Cardboard and metal related zombies will not appear in this stage
Ambush Zombie:
Bungee Zombies will drop Zombies or Conehead Zombies but not Buckethead Zombies.
New Zombies:
Last Line of Defense:
Crazy Dave's speech:
Hello neighbor, I see it's raining
Why am I on the storming roof? BECAUSE I'M CRAZY!!!!!!!
Level ?-3:
The Great Hail is a minigame that features a Hailstorm on the Stormy Roof. No clouds will cover your screen or lightning striking your Roof, but there's going to be a lot of hailstones falling from the sky. When a hailstone falls on a plant/zombie, it will be completely be immobilized for 2.5 seconds.
Plants
Common
Uncommon
Rare
Note: Umbrella Leaf can protect nearby plants from hailstones and get immobilized. While it is immobilized, it cannot protect nearby plants from hailstones
Zombies
Common
Uncommon
Rare
Other
Level ?-10:
Lightning will strike 1.75x more often. Contains 2 flags.
Plants
Common
Uncommon
Rare
Very Rare
Zombies
Common
Uncommon
Rare
Very Rare
Other
Ad blocker interference detected!
Wikia is a free-to-use site that makes money from advertising. We have a modified experience for viewers using ad blockers

Wikia is not accessible if you've made further modifications. Remove the custom ad blocker rule(s) and the page will load as expected.