Spike Pea

Created by Zomplant Jelo

Type:

Plant

Cost:

525

Upgrade:

No

Health:

Absorb 20 normal damage bites

Damage:

5 normal damage shots

Range:

All zombies in 1 row.
Shoots heavy damaged solid rock peas with spikes that passes through zombies.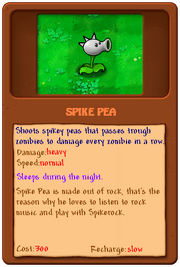 Usage
Absorbs 20 normal damage bites.
It can easily defeat any zombies no matter how many there are 'cause the peas they shoot go through them.
Spikey Magma Peas
If a spikey rock pea passed through a Torchwood, It will turn into a spikey magma pea. Spikey magma peas will explode when they hit zombies.
Damage:
20 normal damage shots to all zombies in a square.
10 normal damage shots to all zombies in a radius of 3x3 (Area of Effect).
Ad blocker interference detected!
Wikia is a free-to-use site that makes money from advertising. We have a modified experience for viewers using ad blockers

Wikia is not accessible if you've made further modifications. Remove the custom ad blocker rule(s) and the page will load as expected.