School is an area where there are 5 rows and 9 nine columns. Plants have to be planted in flower pots and you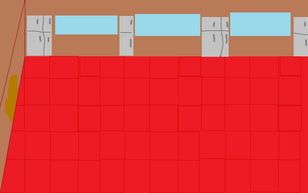 cannot use plants except those you receives during this stage. There are three columns of flower pots in each level.
Sun
High. Start with 200 sun.
Plants unlocked
Plants you've already had
Peashooter(before first level)
Wall-nut(before first level)
Sunflower(before the level)
Flower Pot(before the level)
New plants
Zombies encountered
Zombies you've already encountered
Zombie
Conehead Zombie
Buckethead Zombie
Pole-vaulting Zombie
New zombies
Teacher Zombie
Janitor Zombie
Headmaster Zombie(boss)
Last line of defense
Crazy Dave's Speech
My son will graduate from Dave School today!
I am going to celebrate with him!
Wait...
Why are there zombies in the school?
Fortunately, I have brought some seed packets!
Why did I bring seed packets with me?
Because I am CRAZZZZZY!!
Good luck, buddy!
Test and exam(the fifth level)
Oh, it's time to study.
Why?
Because we are going to have tests and exams!
With Zombies!
Note from zombies
After you beat the ninth level of this stage, you will receive a note from the zombies.
Dear (Player),
I've heard that you done well in the examinations. Would you like to attend our graduation ceremony? I promise that your graduation certificate will be traded for your brain.
Sincerely,
Headmaster Zombie
Trivia
It is revealed that Crazy Dave has a son.
Unlike the other zombies, Headmaster Zombie can write very well and there's no spelling mistake in his note.
Read 2nd trivia maybe it's the teacher zombies (maybe)😛
)   

Ad blocker interference detected!
Wikia is a free-to-use site that makes money from advertising. We have a modified experience for viewers using ad blockers

Wikia is not accessible if you've made further modifications. Remove the custom ad blocker rule(s) and the page will load as expected.