Rose


Spikes zombies that pass and pops tires. (Created by Starfruity)

Sun cost:

175

Damage:

Normal (2 nds per attack)

Recharge:

Slow

Special:

Pops tires; can't be eaten by zombies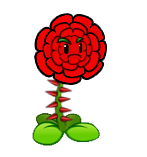 The Rose is a plant that stabs zombies with its thorns when they pass by it. When a zombie approaches it, it will grow taller, allowing the zombie to walk underneath its head while being stabbed. If a Zomboni or another vehicle zombie crushes the Rose, its tires will pop and the Rose will disappear.
Ad blocker interference detected!
Wikia is a free-to-use site that makes money from advertising. We have a modified experience for viewers using ad blockers

Wikia is not accessible if you've made further modifications. Remove the custom ad blocker rule(s) and the page will load as expected.