Police Zombie

Created by Zomplant Jelo

Type:

Zombie

Health:

13 normal damage shots

Toughness:

Medium

Speed:

Normal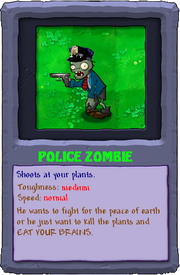 Shoots at your plants like a Peashooter Zombie.
Health
Absorbs 13 normal damage shots. Appearance changes upon absorption of 1, 2, 3, and 8 normal damage shots.
Strategy
Use defensive plants like Wall-nut to block his bullets. Each bullet does the damage of 2 bites. This zombie is easy to kill but may heavily damage your plants if your defenses are low.
Ad blocker interference detected!
Wikia is a free-to-use site that makes money from advertising. We have a modified experience for viewers using ad blockers

Wikia is not accessible if you've made further modifications. Remove the custom ad blocker rule(s) and the page will load as expected.