Hi,

User

,
Welcome to Plants vs. Zombies Character Creator Wiki,
which started on April 11, 2011. Plants vs. Zombies Character Creator is a fanon wiki where you can showcase your fan-made plants, zombies, games, features, and etc. We now have a whopping 9,397 ideas in our wiki and 480,856 contributions have been made.

---

The Plants vs. Zombies franchise is by PopCap and EA Games. All original material from the official PVZ games are property of their owners.
Latest News
Rules
Staff
Block Appealing
If you are ever blocked, please contact a bureaucrat or an admin to discuss it. If what you did was wrong, but forgivable, they can give you an unblock.
Pages to Visit
Recent Activity
Critic's Corner
Critic's Corner

Critic's Corner is a review section owned by Wikia-Critic.
REVIEW 3, WEEK ???: DISCO-SHROOM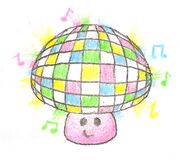 Last time was sooooo not on-schedule. Therefore, I'm making up for it by posting this one day early. Anyways... Now we have one of ThatToasterGuy's plants! Disco-shroom is a fungi which allows- no, forces adjacent plants to function faster. It's sun cost is fair enough. However, how does DISCOS relate to speeding up allies? I don't know.
Read the full review here!
Featured
Featured Article
Featured Article: Snap Pea

The Snap Pea shoots a Snapping Pea every five seconds, which does two peas of damage to most Zombies, but when the pea hits headwear or shield Zombies, it will start chewing on the helmet or shield, doing five peas of damage a second, until the helmet or shield is destroyed. The effect is not cumulative, so multiple snapping peas won't increase this effect.
Read more at the article
Snap Pea
!
Featured User
Wikia-Critic, Formerly known as TheChattyChatot, Was an Administrator who joined the wiki on October 1st 2015. She won the featured user nominations due to her friendly attitude, a great companion of everyone, a wonderful artist, and comes up with unique ideas for this wiki. Since then, She has created about more than 80 pages about plants, zombies, areas, and etc. She was promoted to administrator for a one month trial promotion on October 4th 2015, For being one of the hardworking users in the wiki. Since she does good, She stayed to be an Administrator and continues to help more people.
Learn more about her at her userpage!
This was written by her close friend, DJcraft789
Featured Poll
What is your favorite Modern Day plant?
Community
Wiki Chat
Enter the Lawn!