This creation now exists in a
Plants vs. Zombies
game, but did not at the time of its creation. The official plant/zombie is
Pea-nut
and this creation was made on May 31, 2011.
Peanut

Shoots Nuts and Blocks off Zombies

Type:

Defensive Plant/Offensive Plant

Sun Cost:

125 (+50)

Upgrade:

Wall-nut

Damage:

1 nds per Wall nuts

Toughness:

High

Recharge:

Fast)) Usage:Near a Plant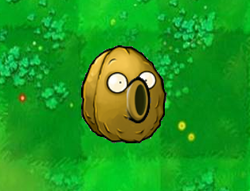 Category:Stub

Ad blocker interference detected!
Wikia is a free-to-use site that makes money from advertising. We have a modified experience for viewers using ad blockers

Wikia is not accessible if you've made further modifications. Remove the custom ad blocker rule(s) and the page will load as expected.