Ninja-Shooter

Ninja-Shooter

Damage:

Light

Sun Cost:

175

Special:

Ninja-Shooter's shot is one ninja pea and it can go threw a zombie therefor doing light damage to all zombies in the lane but shoots every 1.41 seconds.

Family:

Peashooter

Creator's Signature:

PBoy2 (lets have a chat) 14:06, June 21, 2011 (UTC)

Cost:

175
A ninja pea can go through all the zombies in the lane and it does light damage so it does light damage to all zombies inside of that lane.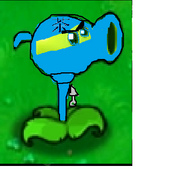 Ad blocker interference detected!
Wikia is a free-to-use site that makes money from advertising. We have a modified experience for viewers using ad blockers

Wikia is not accessible if you've made further modifications. Remove the custom ad blocker rule(s) and the page will load as expected.