House is a place where you fight off the zombies that escaped your defenses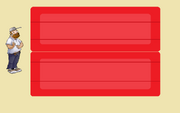 Area Info
Its the inside of your house where you meet from-eirlier faces but a lot of new ones
Sun is renamed Light and start with 25 of it
Seed Packets
They Recharge as much as normal
Seed packets are 5% Cheaper
They are charged from the begining
Zombies
Eat plants 2% Slower
Walk 2% Slower
New Zombies
New Plants
Crazy Dave Twist
The zombies have slammed yours and crazy daves house togather he has moved his shop indoors becuse his van was eaten.
So you control 5 lines of tiles he uses 5 and he has many more upgrades and you are supplyed with 2 Hair Dryers and Washing Machines
Ad blocker interference detected!
Wikia is a free-to-use site that makes money from advertising. We have a modified experience for viewers using ad blockers

Wikia is not accessible if you've made further modifications. Remove the custom ad blocker rule(s) and the page will load as expected.