Football Plant

Created by Zomplant Jelo

Type:

Headwear Plant

Cost:

150 (+100)

Upgrade:

Yes (Peashooter)

Health:

80 normal damage bites

Damage:

1 normal damage shot

Range:

Very Long

Cost To Buy:

$80,000
A combination of
Football Zombie
and
Peashooter
.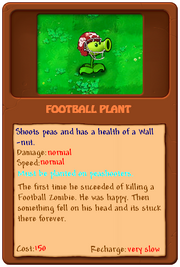 Usage
Absorbs 80 normal damage bites. Appearance changes upon absorption of 24, 47, and 74 normal damage bites.
Shoots peas like a Peashooter with the same damage (1 normal damage shot) and same rate of fire (1 pea per 1.43 seconds) except that it has a health of a Football Zombie.
Ad blocker interference detected!
Wikia is a free-to-use site that makes money from advertising. We have a modified experience for viewers using ad blockers

Wikia is not accessible if you've made further modifications. Remove the custom ad blocker rule(s) and the page will load as expected.