It's like a pool level, but the lawn has been covered by a big flood.
Appearance
Info
Sun:
Low: You start with 100 sun.
Plants:
The level starts with 5 columns of Lily Pads, like in roof stages that start with Flower Pots.
New Plant:
Giant Lily Pad (before the level)
Coffee Doom (?-1)
Propeller-shroom (?-2)
Water-Mine (?-3)
Seaspike (?-5)
Blozer (?-6)
Sea Repeater (?-7)
Electric Red Magnet (?-8)
Zombie:
All normal zombies will appear with ducky tubes. There are only aquatic zombies in this stage.
New Zombie:
Ducky Tube Newspaper Zombie
Hovercraft Zomboni
Giga Ducky Tube Zombie
Water Shooter Zombie
Motorboat Zombie
Crazy Dave's Speech:
Oops!!!! A BIG flood!!

I forget to close the tap water off at your pool.

I'm sorry!!!!

FORGET ABOUT THAT!!!

Let's boogie down those zombies!!!!
Shoot that crazy Aquatic (?-5)
You will control a peashooter in a pumpkin at the last line of defense to shoot the zombies that appear. The peashooter has health. Peashooter's health will be decrease when a zombie touches him. The Peashooter also can upgrade to Repeater, Threepeater, Tri-Shooter, Cattail, Fire Pea, and Snow Pea.
Note: All aquatic zombies are faster then normal.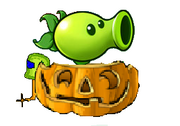 Speech:
Hey,the peashooter has a boat!!!!
I like it!!
Shoot those idiot zombies that want to eat your brains!!!!
The zombies are going even faster because i gave them candy!!!
Why did i give them candy?
BECAUSE IM CRAZY!!!!
Good luck!!
Ad blocker interference detected!
Wikia is a free-to-use site that makes money from advertising. We have a modified experience for viewers using ad blockers

Wikia is not accessible if you've made further modifications. Remove the custom ad blocker rule(s) and the page will load as expected.