Cherry Nuke-Bomb

Created by Zomplant Jelo

Type:

Plant

Cost:

300

Upgrade:

No

Health:

6 normal damage bites

Damage:

1 instant kill

Range:

5x3 radius

Almanac Entry:

Cherry Bomb just got some nukie radio-active-thingy poured on them, so now they became Cherry Nuke-Bomb! They didn't like the green color though.
Explodes like a Cherry Bomb and it will spread radiation in a radius of 5x3 which does 3 normal damage shot every 0.50 seconds to zombies, the radiation stays for 2 minutes and leaves a 1x1 crater.
Usage
Absorbs 6 normal damage bites.
Use it like you would use a Cherry Bomb.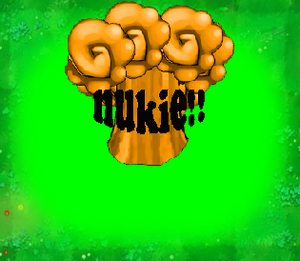 Ad blocker interference detected!
Wikia is a free-to-use site that makes money from advertising. We have a modified experience for viewers using ad blockers

Wikia is not accessible if you've made further modifications. Remove the custom ad blocker rule(s) and the page will load as expected.