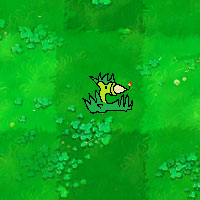 Cost: 450
Health: 6 normal bites
Damage: massive(exploding seed); normal(seeds)
Special: Can be planted on land or water.
| | |
| --- | --- |
| | This page needs an Infobox. Please add one. Ask an experienced user on how to add one if you find this on your page. |
Alamanac Entry
Camo Plant enjoys destroying zombies. "Blowing them up is fun!" he says. He may seem like a violent and strong guy at first, but ask any plant and they'll say, "He's a great guy!" because everyone is his friend. "He's like a one man army," Wall-nut says. "He protected me once," Sunflower says. He's very popular.
Camo plants use Exploding Seeds for short range attacks, and Gatling Seeds for long range attacks, he can be planted on land or in water.
Ad blocker interference detected!
Wikia is a free-to-use site that makes money from advertising. We have a modified experience for viewers using ad blockers

Wikia is not accessible if you've made further modifications. Remove the custom ad blocker rule(s) and the page will load as expected.