Boxhead Zombie

Created by Zomplant Jelo

Type:

Zombie

Health:

15 normal damage shots

Toughness:

Low

Speed:

Slow
The Boxhead Zombie is a very weak zombie. It is slower but has more health than a normal Zombie.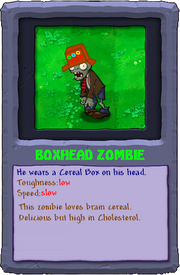 Health
Absorbs 15 of normal damage shots. Appearance changes occur after 4, 5, and 10 normal damage shots.
Strategy
This zombie is easy to kill. One Peashooter is enough to kill this zombie.
Ad blocker interference detected!
Wikia is a free-to-use site that makes money from advertising. We have a modified experience for viewers using ad blockers

Wikia is not accessible if you've made further modifications. Remove the custom ad blocker rule(s) and the page will load as expected.