Alien Flower

Alien Flower Almanac Photo

Abilities:

Heals all Plants around it

Sun Cost:

125

Recharge:

Sluggish

Obtained:

109 gems

Creator:

RetroBowser
Almanac Description
Alien Flower has never heard of sun. What she has heard though is that it supposedly makes plants happy and keeps them alive. Alien Flower decided that she'll make that her purpose and now spends her time doing just that on a day to day basis.
Abilities
Heals all plants around it in a 3x3 area
Plant Food Ability
Fully heals all plants around it in a 3x3 area. Offensive plants in that area will shoot twice as many projectiles for 10-15 seconds.
HD Full Sized Image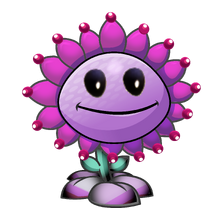 Ad blocker interference detected!
Wikia is a free-to-use site that makes money from advertising. We have a modified experience for viewers using ad blockers

Wikia is not accessible if you've made further modifications. Remove the custom ad blocker rule(s) and the page will load as expected.